Video Game Developers Band Together For Fukushima Relief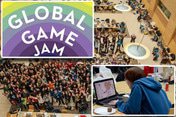 When gamers and developers come together to make big things happen for charities, a lot of money and awareness can be raised on a very large scale. There are organized events where people play for 24 or 25 hours at a time in order to raise donations, where developers must bring a game from concept to fruition in a limited amount of time, and more. Each has it's own method of collecting cash for their charitable cause of choice and each is doing great work to help those in need.
One such example was the 2011 initiative to benefit the survivors and relief effort after the tsunami and nuclear reactor meltdown at Fukushima, Japan. Helmed by IGDA Japan (International Game Developers Association Japan), who host the yearly Global Game Jam, and partnered with 9Leap, the Fukushima Game Jam took place over 30 hours between August 27th and 28th, putting the skills of student developers to a timed test. The event was such a success that it has continued every year since, largely unchanged in structure with the exception of the time limit, which has been stretched to 48 hours.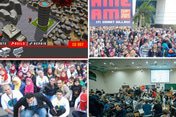 A statement released by IGDA Japan regarding the first event read, "Fukushima faces great difficulties in its future. Not only are the scars from the earthquake and tsunami deep and fresh, but the effects of the nuclear disaster will be long felt as well. Game developers will tour the area and build a game together with students from the Tohoku area. They will create a game in only 30 hours, testing their creativity, talent, and abilities."
That spirit carries the event forward year after year as the communities and nation still deals with this combination of a natural and man-made disaster. The events have been live streamed through multiple channels in order to spread awareness and access as broadly as possible. Great news for the gamers out there who want to take part and help a great cause is that there are many ways to make donations. Additionally, the games are available for free download, and in some cases, playable straight through browser windows, though for those who do not read Japanese, it may be difficult to navigate.